*Disclaimer*:  We at The Barricades of Heaven are aware of the disastrous quality of the photos in the following post.  The weather we are having at the moment means that the whole world appears to be grey..  If you turn the light on, it just changes everything to yellow.  We imagine this will continue until about March, and apologise for any inconvenience this may cause you.
Aaaand breathe.  Well, as I'm sure you realised a while ago, I've shelved the Christmas Quilt for the minute, as there was JUST NO WAY it would be done for Christmas.  I was a bit sad to put it aside, as I was just starting to get into the swing of it, but if I'd carried on, not only would I not have finished it, I wouldn't have got any of my other Christmas things done either.  So I've moved Christmas back where that's concerned…  I'm looking forward to picking it back up again, which I should be able to do in a couple of days!
Anyway, on to what I've been up to instead.  Exhibit number 1 is the apron in the picture above, as modelled by Paul.  It's not for him, but it's impossible to get a half-decent picture of it without a person inside, so he was press-ganged into action.  It's the Butcher's Apron from The Great British Sewing Bee book, although it's a bit short because I'm using up my stash, and that was the size of fabric I had…  I assume my brother will not be doing much cooking at knee-height, though, so it shouldn't matter too much!
The main fabric is a cream and black upholstery-weight from Dunelm Mill, and the binding is made from the leftover denim from my 50s jeans.  Thanks to my hoarding tendencies, I also had a pair of D-rings of one of the girls' old belts, which are ever-so-slightly too big but hey-ho.  This was a super-quick and easy project, there's honestly not too much too much to say about it!  Construction couldn't be simpler – just hem the pocket and apron piece, sew on the pocket and bind the curved edges – the binding extends off the ends to form the straps.  You can do it in an evening, and it's a satisfyingly useful make.  Yay :)!
Exhibit number 2 is this BurdaStyle girl's shirtdress, for my god-daughter.  I made the smallest size, but I think it's still going to be a bit big.  Ah well.  They grow fast enough…
I love BurdaStyle children's patterns – they mostly have great styling, and look like actual clothes you might buy, rather than screaming 'MY MUM MAKES MY CLOTHES!!'  I mean, look at her: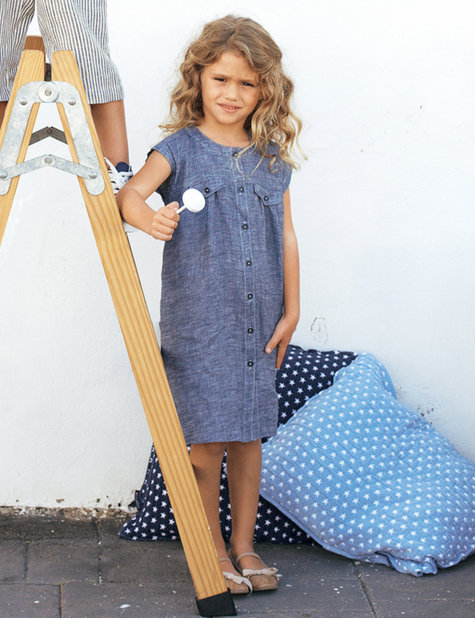 I want her hair, her tan AND her lollipop.
What I will say, though, is that however cute the final product is, the patterns aren't without their drawbacks.  The instructions are fairly negligible.  Well, it's a pretty straight-forward garment, and the construction is similar to things I've sewed before.  I had no problems, but then again after looking at the instructions once, I decided to ignore them completely and work it out for myself, so that's not exactly a recommendation…
Also, the lack of seam allowances is just a pain.  It really is.  I understand for some patterns it's good to have the exact sewing line marked, but this really only applies to projects with intricate piecing, or where spot-on fitting is important.  But in most cases, it's a pain, necessitating tracing round everything with the ultra-sophisticated tool of 2 pencils held together with a rubber band…
I used a quilting cotton from (whisper it) Hobbycraft for the body of the dress, and some ultra-lightweight denim from some summer trousers which don't fit me for the yoke.  I was initially going to make the whole thing in the floral, but quickly realised it wouldn't look right.  What really makes this dress are the little details, which would have been lost in the patterned fabric, hence the denim, which I think makes a nice contrast.
Not that you can see from the pictures, but the topstitching is pale pink.  It's an old spool of cotton thread I've had hanging around for ages, which is in-between sewing thread and topstitching thread in thickness, so ideal for adding detail to small projects like this without looking too chunky.  I'm ok with the topstitching, but the minute I finished the dress I went straight on eBay and ordered an edge-stitching foot (the ones with a little blade underneath which keeps your stitching parallel to an edge).  I love using topstitching as a detail on garments, so I should be able to do it properly in future!
The only thing I changed about the pattern was to line the yoke (the same thing as I did for the Victorian nightdress), instead of using the facing pieces provided in the pattern.  I mean, cut out loads of fiddly little strips to face the armholes, neckline and button band INDIVIDUALLY, or just cut out one more set of yokes?  What d'you think.  I do think that it would look nice with facings if it were all one fabric, as in the sample, but somehow I didn't go for it with this version.
I had the metal buttons (Coats 0278) in my tin already – I've used them for loads of things already, they seem to go with nearly everything.  If I'm undecided, buttonwise, they're my standard fall-back option.
So there you go!  The nice thing about this style of dress for girls is that it's equally suitable with bare feet in summer, or tights and a long-sleeved top underneath in winter.  Which is good, really, as given the sizing Evelyn's going to be wearing it for about the next 3 years…
Well, I'm nearly there on the Christmas project list (the achievable ones, anyway)!  How are you all getting on with yours?
Have a lovely week!
X